I got sent an arc of Speaking in Bones by Kathy Reichs by Net Galley on behalf of Random House UK. If you don't know, this is the series of books that was used to create the show Bones that airs on Fox. I hadn't read a single Kathy Reichs book (not for lack of trying) until I got this and because I'm an avid watcher of the show, it didn't take me too long to get a good feel and grasp on the characters. The books are vastly different from the show at this point in the series (book #18 vs. season 10) and I quite enjoyed the read.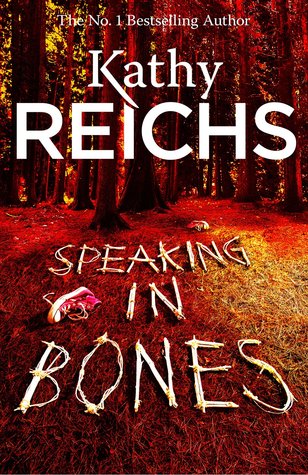 Briefly, the synopsis goes like this- Dr. Temperence Brennan is working at an anthropology lab in Charlotte, North Carolina and is contemplating the marriage proposal she had gotten from her Police Detective boyfriend Andrew Ryan which is quickly pushed into the back seat when murder shows up at her doorstep. Hazel 'Lucky' Strike, a websleuth (someone who works through online forums and websites regarding missing persons to try and find a match for the thousands of sets of remains across the United States that are unidentified and stuck in limbo), arrives at her doorstep making claims that she has matched the remains of a missing girl named Cora Teague to the ones in her facility labelled ME229-13. Tempe is unconvinced and as proof, Lucky produces a voice activated recorder containing the voices of a frightened girl begging for something to stop while the two male voices sound threatening to the girl's life. Somewhat convinced, Tempe takes the case little does she realize she's entering a world she had never imagined to exist.
In terms of writing, I loved it. Almost each chapter ended in a cliffhanger which, in my opinion, is important to keep the reader interested and on edge. It was very difficult to put down and the way that each cliffhanger was resolved was slow enough to create a balance between curiosity and excitement. There are some books that jump right in to the resolution in the next chapter after a cliffhanger immediately satiating the reader's need to know but this book didn't do that and I quite liked it.
The plot was unbelievable. There were some things that could be guessed because the cliffhanger would hint at something but mostly, you could not guess the ones that were subtle or nuanced and made your hair stand on end and shoulders to tense. The turns that this story takes actually feel scary and are very unexpected, they catch you completely off guard. The use of the Church the way she did in the book and throwing in archaic rituals in was very frightening. There was, probably, a shade of reality to what she described which is jarring to the mind.
Characters! Of course Tempe was amazing and her interactions with her cat were a lot like how you'd talk to your own pet which I enjoyed very much. Detective Ramsey was a great sidekick in his own capacity but the cliche that Kathy Reichs added with regards to their partnership seemed unwarranted; it did nothing for the story or for her relationship with Andrew Ryan. Andrew felt very different from Booth (on the TV show) and I found him to be quite interesting. I would love to go back and read how Tempe and Andrew's relationship developed over the past 17 books. Another character I really liked was Tempe's mother Daisy. She was the light in the book and I was impressed with her intelligence and awareness of the Internet.
In conclusion, I loved the book. No matter how scary, jarring or how much it played on my mind, I was very impressed with this book. I haven't read a Crime Murder Mystery in a very long time and getting to read this was a breath of fresh air surrounded by a pile of mostly Young Adult genres. I will definitely be picking this one up again in the future.
I rated it a 4/5 stars.
If you enjoyed this review and are interested or already are an avid Kathy Reichs/ Bones lover, I definitely recommend picking this series up and giving it a chance. Some of the most well written murder mystery I've read in a long long while. The book comes out July 21, 2015 in Hardcover.