Based on the kind and amount of books I'm reading, I think I'm going to make reading one LGBTQ themed book every month.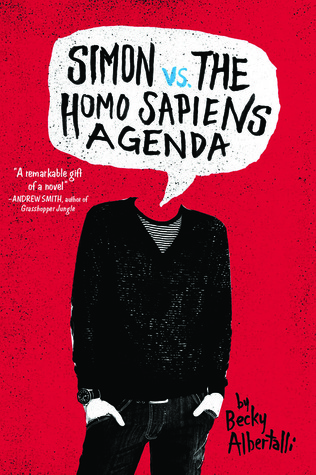 Pages- 448 (Hardcover)
Publisher- Balzer + Bray
Rating- 4.5/5 stars
Simon vs. the Homo Sapiens by Becky Albertalli is about a boy named Simon who has a secret email correspondence with a boy from his high school but who's identity is unknown to him named Blue. Blue is more than just a friend but because they decided to keep their identities anonymous, they can't talk to each other about things that would betray the slightest indication to who they might be at school. Things go south for Simon when a boy in his class named Martin sees the emails and decides to blackmail Simon and in exchange wants him to help him get together with one of his friends. Simon is least happy about the situation and agrees for the sake of himself and Blue.
The storyline was very successful in not being a cliche. I loved all the characters, especially Simon's sisters and his friend Leah who doesn't get that much page time but was one character I honestly could not get enough of. She was different and at times childish but in an understandable way. Simon's relationship with his family was unique and awesome which I enjoyed reading about throughout the book. Alice was an interesting sibling character who had an impact in the story that was unprecedented. The story could have been massively predictable but kudos Becky Albertalli for being absolutely awesome and writing this the way you did. I looked most forward to the email exchanges between Blue and Simon. There was something so raw and open about them that at times it felt like I couldn't get through a chapter fast enough to get to them. The coming out did seem anti-climatic but it was written well enough that it was easy to overlook.
Characters! I already mentioned his sisters and Leah who I loved to death. Another character I enjoyed was Abby. I could understand a lot of what Simon says about her in the sense that he knew her for six months but it felt like years. There are few people that you come across like that in life and her character was so supportive and brilliant that it felt in a good chunk of the story that it was about her too or I wanted it to be about her as well. Excellent side character with the potential to be a main character.
Overall, I absolutely loved this book. One of my favorite contemporaries of the year definitely. I gave this a 4.5/5 stars. If you haven't read it, please do. It's absolutely wonderful.