Bless Epic Reads for existing. I found this book on their summer reads list sometime back in May I think. On a whim, I picked it up 2 days ago to read and ended up finishing it because I got addicted to it.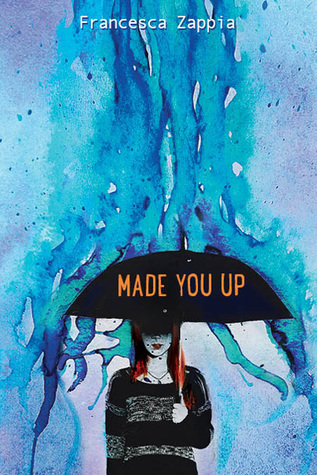 Publisher- Greenwillow Books
Pages- 448 (Hardcover)
Rating- 5/5 stars
Made You Up is a debut novel by Francesca Zappia and the story follows a girl named Alexandra Ridgemont who suffers from schizophrenia. She lives in a small town in Indiana and was forced to switch schools from Hillpark to East Shoal because of an "incident" that happens. On her first day, she encounters a boy named Miles Richter who everyone is deathly afraid of but something about him strikes at her memory from when she was seven. He reminds her of a boy who helped her free the lobsters from a tank at the local grocery store and has the most striking blue eyes, so much so that she thinks she's imagining them. Her mind files away his impossibly blue eyes, salt and pond scum scent and she names him Blue Eyes. Over the years she assumed that Blue Eyes had been a figment of her imagination but when she meets Miles, she begins to doubt that assumption. The story follows her struggle with telling apart reality from imaginary, making friends and figuring out who Miles Richter really is.
The storyline, my god, is brilliant. I absolutely loved it in it's entirety. The way she described Alex's schizophrenic episodes, her struggle to differentiate imaginary from reality, her paranoia- all so well done. The most enjoyable aspect about this that it wasn't just about romantic love, there is also a lot of familial love, friend love, learning things about people that you would never have under ordinary circumstances, finding and learning the truth about oneself . To see her interactions with Miles, especially with the pranks they pull on each other, you realize she is bold despite her illness and very intelligent and fights for what she wants. Most people would give up given the choice between continuing with school or checking into a psychiatric hospital but she convinced her parents and therapist that she could handle it and she does such a fabulous job of coping. I fell in love with her world, her story, her life. I know it may seem like I'm romanticizing it but I'm not. The way Zappia describes Alex's run in with the lobsters, the story behind her bike Erwin, her frustration with her too red hair, her conversations with her sister, her perimeter checks, taking pictures of odd things- it all reads so fantastically and beautifully. There are times when I actually got scared because of what I read in the book when one of her imaginations were mentioned and all I could do was gasp loudly and smack my head with my hand. This is just so brilliant and it reminded be so completely of the movie a Beautiful Mind. This book is just magnificent.
The characters were wonderful. I loved Alex the most and next to her the triplets, Miles, Celia and her sister. I haven't seen such a diverse set of characters in a contemporary book that I've read. I loved how they all intertwined together and brought each aspect of the book alive. Celia was a very complex character as far as side characters go. You could say she was the antagonist but I would probably be wrong. Celia's story brought forth a lot of stress that some kids experience which was very interesting to read about. Her story is quite open to interpretation and hopefully one day I can ask Zappia about them.
Overall, please go pick this up. It's heartbreaking, amazing, beautiful, witty, nutty and brilliant. Don't be fooled by the number of pages because it's a very quick read and keeps you so engaged that you won't even realize you're reading a book. A book worthy of being on your TBR pile.
I rated this 5/5 stars.