Let the stream of reviews begin! I read this book as a part of the Bibliophile Gathering Read Along (blog) for the month of August. They also have a giveaway for Sophie Kinsella's new YA Book Finding Audrey. So if you participated, yay! If you're a really fast reader, there are still a few more days to the end of August and you can finish the book and join in the discussion that will be happening next month.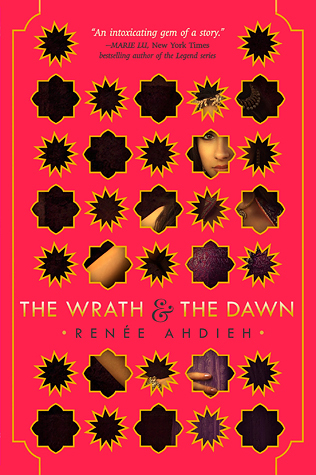 Rating- 5/5 Stars
Publisher- G.P Putnam's Sons
Pages- 388 (Hardcover)
The Wrath and the Dawn by Renee Ahdieh is a 1001 Arabian Nights retelling. The story follows our lead character Shahrzad who seeks revenge on the boy king Khalid for killing her best friend. Each night the boy king takes a new bride and slaughters her at dawn for no apparent reason. Driven by vengeance, Shahrzad volunteers to be his next bride in an attempt to survive the night and kill the king. She manages to stay alive the first night and proceeds to live through the next as well in an attempt to understand why her friend and thousands of young girls before her had to lose their lives. What she learns is something completely unexpected.
This book was-
It is surprisingly complex and difficult to grasp up until a third of the way through because of the sheer number of characters and different points of view; not to mention the world building that is happening along side that somehow works out. I did not dislike a single character surprisingly and each one of them surprised me at each turn.
I have to say, Shazi's internal struggle to kill Khalid was so well done that it did not feel cliched. This wasn't Jerk Boy loves Nerd Girl Who Hates Him, it was more like I Will Lure You To Your Death with my Fantastic Storytelling and Might Reluctantly Fall In Love With You and Be Forced Between Staying Or Leaving. Geddit? Fairly confusing I know but it's the crude gist of it. Khalid as a character was well written and showed something on and off but I really wanted more from him, so much more. I think that might be portrayed in the second book so all we got to do is wait for 2016.
Shazi's handmaiden was very interesting, her description is fairly beautiful and I hope her character has more to play in the next book because she could give anyone a run for their money. What if she gets sent off with Shazi for protection or something? That would be cool.
The story is just-
So good and so delicious. It has a poetic lilt to it that just makes you go- "Bravo! Bravo!" It's painful to stop reading it at any point in time because there's so much happening by the end that you will give anything up just to KNOW WHAT HAPPENS. Ugh. So. Beautiful. Captivating. Painful. Screamworthy.
I gave this a 5/5 stars and I'm sure it topped as my favorite book of the year beating A Court of Thorns and Roses by S.J. Maas.
If you're planning to read it after the hype dies down, I doubt it's going to because it LIVES UP TO IT. Also it's really beautiful. The ends are just gorgeous and the purple hardcover is to die for. Help.
Let me know down below if this made you want to pick up this book or if you've already read it. I will see you again very soon!!! BYE.