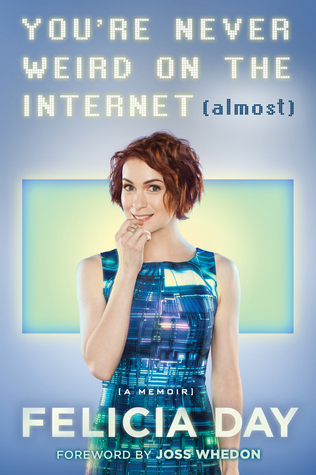 Rating- 5/5 stars
Publisher- Touchstone
Pages- 272 (Hardcover)
This was my most anticipated memoir of the year because Felicia Day. That woman is amazing and I love what she stands for for all the geek and nerd girls around the world. I've loved her since Supernatural and I love her even more now that I've read her memoir. And Joss Whedon's foreward was awesome, and I mean awesome. It was perfect and touching and George R.R Martin's blurb made me laugh like crazy. All I could think when I read that was- "George R.R. Martin blurbed Felicia. HE BLURBED HER." People live for that kind of stuff and god knows she deserves it.
I got it as an ebook because I was depressed and really wanted some comfort and I gave in and read it. I will be getting the hardcover soon because I really want to hold Felicia in my hands (geddit? Sorry too creepy? Okay.)
I think the parts I loved most were her upbringing and her time at University of Texas, Austin. To think that she was brought up in the deep south was unimaginable to me. I always thought she was from the mid-west or west or something but no, bible thumping part of the country (I've been there, it is like that.) Her mom is awesome like, WOW. The homeschooling thing threw me but I loved reading about it, especially all the substituting that she and Ryon (her brother) did. Very enjoyable. And I loved that she learnt math equations and studied calculus because her mom told her she was going to become stupid once she got her period. I laughed so hard at that because Felicia cried when she got her period and she was just starting to enjoy derivatives. I did enjoy derivatives when I was learning them but this was a whole new level of funny and awesome. She's just awesome. SO awesome.
Would you believe that her work ethic at college has inspired me to do better? She majored in Math and Music (Violin) and my jaw dropped because- WOW.
NO I WONT STOP FELICIA! You're my Queen of Moons, no one be stopping me from saying nice things about ya! Anyway, Math. Guys, read it. It was definitely one of my favorite parts from the book simply because it showed how dedicated she is as a person and a human being to her work and her life.
The chapter about her mental health hit a nerve in me. I was crying while reading this chapter and the GamerGate one. I was reading all about it while it was happening but I'm just too slow on social media (maybe I did post something on Tumblr, I don't remember) and reading it from her POV helped me understand a lot more about that. I really hope nothing like that happens again because I AM A GIRL AND I AM A GAMER.
Coming back to the topic of mental health, I never knew how stressed she was because of the Guild. I thought she got her pixie cut for kicks but when I read the book it turned out she was so stressed her hair was falling out. Damn, perfectionism has a price (I know because I haven't finished Dark Souls yet or picked up to draw anything in a very long time). What really inspired me was her finally realizing that it's okay to let go and let things happen and do what you want to do and not what you have to do. That difference has been very difficult for me to understand and this helped me grasp it a little bit.
Another favorite of mine was World of Warcraft. Like, favorite. Her addiction to the game was so realistic (it's like watching a show and then watching another one and on and on) and all I could thing was- me too! Me too!
I loved every minute of this book, and it was just so good for my soul. I actually got out of my depression much quicker than I do normally after reading this and it felt so good. I rated this beauty a 5/5 stars.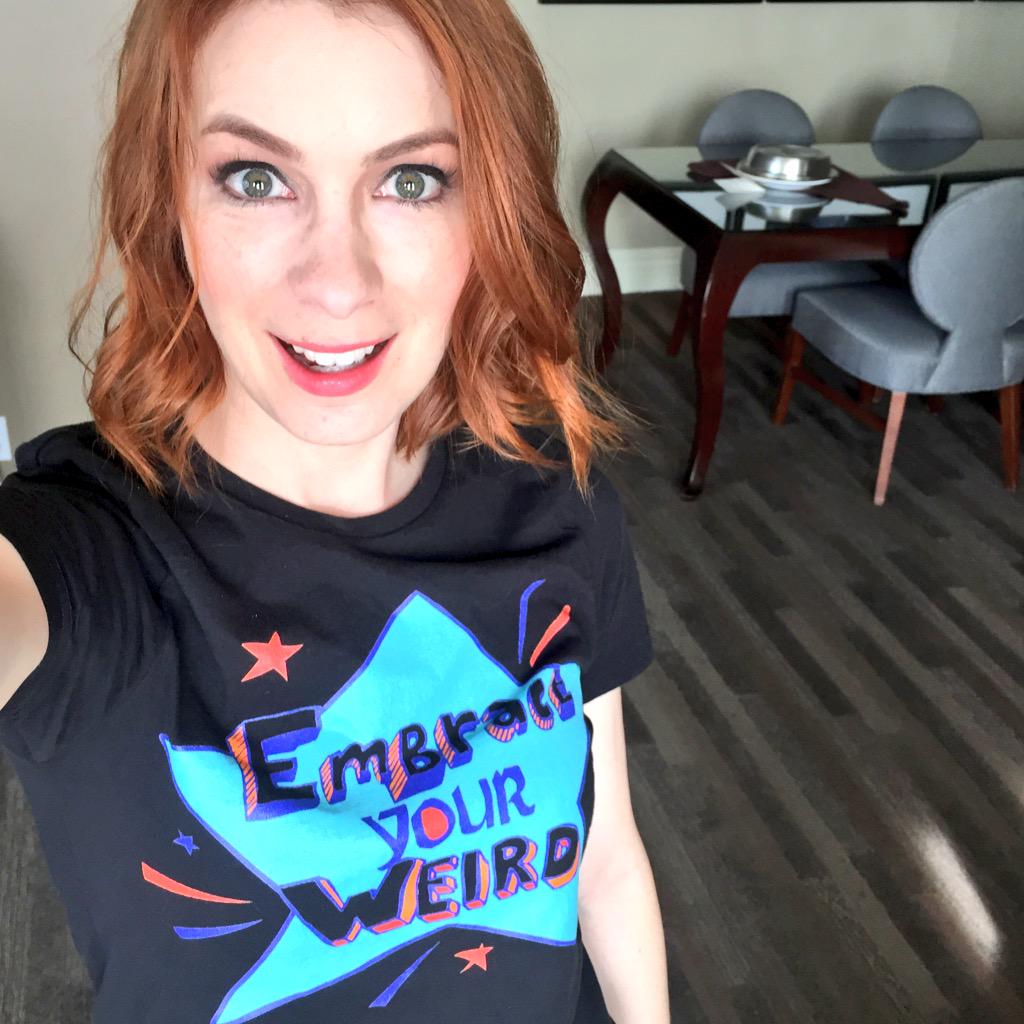 Also, Felicia also launched a tshirt campaign whose process will go to Stomp Out Bullying which is an organization that is helping spread awareness about bullying in school and helping kids who are being bullied. Please pick this tshirt up here there's still a week or so left. The shirt says- Embrace Your Weird! and honestly, you should.
Embrace your weird and I will see you in my next post!