Aristotle and Dante Discover the Secrets of the Universe by Benjamin Alire Saenz is a coming of age lyrical novel that is sort of Young Adult with LGBT themes in it. I have been trying to get through this book for a long time and I finally finished it. At first I wasn't too happy with it but I definitely liked how it picked up.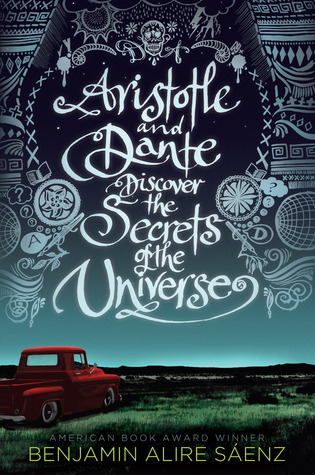 Rating- 4.5/5 stars
Publisher- Simon & Schuster
Pages- 368 (Hardcover)
The story is based in El Paso, Texas and follows the story of two boys, Aristotle and Dante who develop an unlikely friendship when they meet at the neighborhood pool. The book describes this friendship which is completely unexpected and lasting. This is a very summer and summer rains book which is nice.
I'm glad I didn't DNF this book because I would've felt guilty what with how many awards it has gotten. The first half, I felt, was quite slow which did put me off but it picks up in the later half which was very satisfying. I loved the simplicity of it and the reality of life as well. There were so many instances when I read something and thought- "That happens. We do feel like this." or "There are kids who feel like this". The book is very relatable and I wish I had persevered and finished this book in one or two sitting because I would've gotten the effect of it in a much better way than I did.
I loved the interactions Ari has with his parents and how they change and evolve. There is liberty and freedom and there are constraints as well which aren't as pronounced but inherent in a way. It showed how much your parents care and how much they give up or hide for your sake, to protect you. Yes, it's misplaced eventually but your family does try to do right by you. I did quite enjoy how a missing character could play such a big role in the book. I don't think I've read about it in other books and I liked it a lot.
Dante and his family were lovely. Seeing both families and reading about how close they become was brilliant and felt like home. Kudos to the author for writing such realistic characters and families that are so relatable and you can expect to see in the world around you.
I really don't know what to say except this book is very very good and please read it. I can't give out too many details because I might ruin the plot but this book is an experience, and I highly recommend it.
It was initially a 3/5 stars for me but when I finished it was a 4.5/5 stars.
That's it for now and I will see you in my wrap up! Embrace your weird!