Finding Audrey by Sophie Kinsella is her debut YA novel. I read this book as part of the Booksplosion Book of the Month Read-along hosted by Jesse @ jessethereader, Christine @ polandbananasBOOKS and Kat @ katytastic.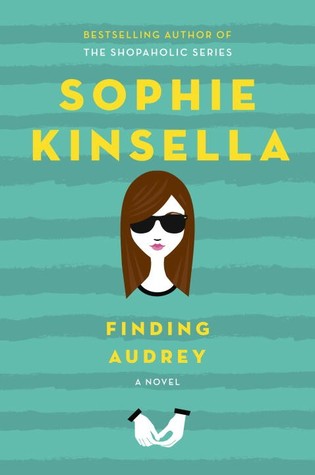 Rating- 4/5 Stars
Publisher- Delacorte Books
Pages- 288 (Hardcover)
The story follows Audrey who is suffering from massive anxiety and depression after being severely bullied at school. Her anxiety is so bad that she wears sunglasses at home because she is unable to make eye-contact with anyone- be it her family or a stranger. She is trying to get better and is seeing her therapist. The book describes her journey of healing herself.
With such a serious topic being discussed, you'd expect this book to be very very heavy. I was pleasantly surprised to see that there is a lot of humor that is there to balance out the dark. There were times when I was laughing so hard I couldn't breathe and there were times when I was so quiet or worried for our character that I wondered if I was even corporeal. This book really was a surprise for me.
I loved all the characters especially Audrey's mother and her older brother Frank. I loved that their interactions were so funny and just different from the norm. The opening scene of the book is my favorite and had be intrigued. I also enjoyed when the family came together for the gaming tournament and how everyone's personalities sort of changed and became more supportive of each other and more understanding. Some other favorite scenes of mine were the ones involving her mom and the Daily Mail which is a newspaper in the UK and every time she'd read an article and start freaking out and overanalyzing things I'd just lose it and start laughing. Very well done.
As far as touching moments go, my favorite one would be the one when Audrey realizes how much her family has sacrificed to take care of her. The moment that happened it just struck a chord with me because it reminds me of my own mother who had to sacrifice a lot to bring up myself and my sister. I really liked that scene because she could've ignored it and gone on and never told her mom to go back to work but she did notice and did care and I quite enjoyed that.
The romance was okay, I wasn't too enamored with it. Linus' challenges were interesting at first but then they sort of became meh. I did love the ice-cream scene, that was really sweet.
The only issue I had with this book was that there were instances where it's written that Audrey was bullied really badly but we never get the real story of what made her like that. Maybe it was too disturbing and Kinsella didn't want to create a trigger for readers who are/have been bullied which I do understand. But I still thought that a hint or two could've helped us understand a bit more. I don't know how accurate the depiction of her anxiety was so I don't think I have any right to comment on that.
I rated this book a 4/5 stars.
Let me know down below what you thought of the book and if you think the anxiety was accurate, exaggerated or anything else and I will see you in my next post. Embrace your weird, readers!