Falling Kingdoms by Morgan Rhodes is the first book in the Falling Kingdoms series. It is a Young Adult Fantasy that has shifting perspectives focussing on three kingdoms- Auranos, Limeros and Paelsia. The story follows various points of view from all three countries of many characters providing comprehensive world and character building.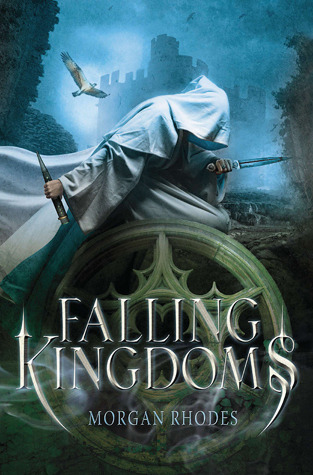 This cover is amazing. I love it so much. LOOK AT THE DETAIL.
Rating- 3.5/5 stars
Publisher- Razorbill
Pages- 412 (Hardcover)
The story is about three kingdoms- Auranos, Paelsia and Limeros all of whom are looking for the Lost Elementia. These elementals give the wielder unimaginable power and prosperity to them along with the land. Different countries worship one of the two goddesses- Cleiona and Valoria. Limeros worships Valoria and treats Cleiona as the evil one while Auranos has given up the practice of worshipping Cleiona. Paelsia is deteriorating and the people struggle to make ends meet. When Auranian Lord Aron and Princess of Auranos Cleinoa come to Paelsia for the purpose of buying wine that Paelsia is famous for, Lord Aron ends up killing the merchant's son triggering a course of events that change everything.
I picked this up after reading the reviews and seeing that there was magic and witches involved, I couldn't help it. The book focuses a lot on character building and world building and tries to set the board for the remainder of the series. If it were a trilogy, I would not have been happy with the way this book started out but seeing that a fourth book is coming out, I realized that the first book is a cornerstone for the construction of the remaining story. Despite the slow pace of plot, I quite enjoyed the book.
The characters are so varied and unique! I read mostly for the characters and their developing plotlines. Quite a few of them keep you on edge with their progress. The Limerian characters were especially intriguing to me, more so Lucia and her brother Magnus. That story is one that had be turning pages faster and faster. I also enjoyed the fact that Morgan Rhodes used so many mature themes. I might be wrong when I call it Young Adult because it seems more New Adult to me which I absolutely love. Cleiona was a character I instantly disliked because she seemed so weak and princess-y. I took a great liking to her sister who's story I loved. She was a great character and I wish she hadn't been done away with.
The element of magic was strewn throughout the book which is also what kept me going. Magic is pretty much my drug so, even a little bit will keep me hooked. I liked that there wasn't too much and hope there's more in the second one. The idea that Rhodes presents in this book really impressed me and I'm just waiting now to get to the second one.
All in all, pick this up. It's like a slow burn and very enjoyable. I hope the subsequent books are better and have a greater plot and bigger character lines. I rated this beauty a 3.5/5 stars.
I hope you liked this review. Thank you for reading and embrace your weird, pretties!