Miss Peregrine's Home for Peculiar Children by Ransom Riggs is a Young Adult Paranormal/ Horror book that follows the story of Jacob Portman, a seemingly normal boy who lives in Florida and is heir to a big Department Store chain. In his childhood, his grandfather, Abraham Portman, told him fantastical stories about his life from when he was forced to flee his home in Poland during World War II and sent to live on an island in Wales. Over there he lived with children who had different abilities. Grandpa Portman also had photographs as proof but after a while, Jacob who is convinced by his father that their grandfather is senile and substituting the horrors he saw in the war with stories of monsters and children with different abilities, negates and dismisses his tales and over time, his grandfather stops talking to him about them. After a tragic accident involving his grandfather, Jacob and his father take a trip to the same island Grandpa Portman had lived on as a child. What Jacob comes across and gets tangled up in was beyond his imagination.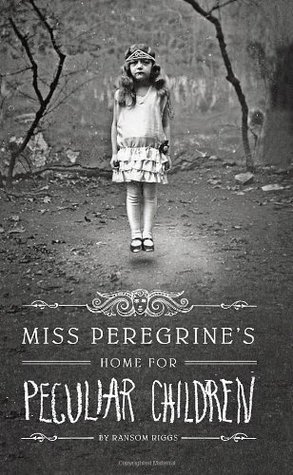 The cover, oh my god. It's creepy and so different. Quite suits the book.
Rating- 4.5/5 stars
Publisher- Quirk Books
Pages- 352 (Hardcover)
I finished this book as a part of the Booksplosion Book of the Month hosted by Kat from Katytastic, Jesse from jessethereader and Christine from polandbananasBOOKS on YouTube. It's been on my TBR for a while now and I'm SO GLAD I got to read it.
The story was exceptional and I mean exceptional. The pictures in the book kind of scared the pants off me but they also fascinated me. The beginning is kind of slow but picks up so quickly that it becomes really difficult to put it down. I loved the sequence of events that followed all the characters and how some of them are quite like what you'd find in real life and some so imaginative that they blow you away. The world building was really good as well and so beautiful. This is one book that really blows you away with its uniqueness. The horror aspect of it is different as well. It doesn't straight up scare you but there is a small amount of paranoia that may creep in when you put it down after reading that might have you looking over your shoulder or under your bed. I'm trying to desensitize myself against horror books and movies and this helped a lot to make that happen.
The characters were all so so good. It gets difficult at times to keep track of all the names and stuff but as you keep reading it becomes easier to remember and you enjoy them more. I can't say much because I really really want you all to pick up the series and enjoy it just as much as I have.
Overall, I loved this book. The second book is part of the Booksplosion Read-a-long as well and by the time this goes up I will hopefully be done with it. I rated this a 4.5/5 stars.