Something Strange and Deadly by Susan Dennard is a Young Adult Paranormal Fantasy based in the Victorian Era with Zombies. It follows the story of Eleanor, a young lady from an influential Philadelphia family that fell from high society, who is trying to find her brother who appears to have been kidnapped by the Dead. She enlists the help of the Spirit Hunters, Joseph Boyer and Daniel Sheridan who are trying their best to put the restless to rest and also protect the innocent citizens of their town. Wrapped up in more than just the mystery of her missing brother, Eleanor dives headfirst into something that she had no idea would change her entire life for good.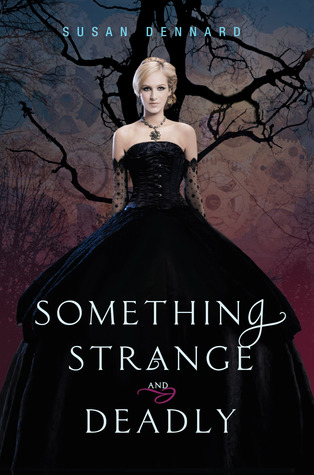 I hadn't seen this cover properly before but with the new iOS update I opened the book to write the review and I saw the enlarged cover. It's attractive and mysterious and I love it.
Rating- 4/5 stars
Publisher- Harper Teen (Harper Collins)
Pages- 388 (Hardcover)
So, I don't like zombies; I'm not a fan of the Walking Dead or Fear the Walking Dead, I haven't seen Zombieland and the only reason I love the Resident Evil movies is Milla Jovovich. But, this book, this is like a time travelling version of Supernatural in an alternate universe that the surprised the skull printed leggings off me and I loved every minute of it.
When I first started reading this book, I thought it was okay, nothing much was happening and it was slow. It took me about 80 pages before something really amazing happened and after that I was sailing through. Eleanor annoyed me a lot at first, she was a high society girl that I disliked with a passion. I'm so glad she turned out the way she did and had a great character build throughout. The story is set in Victorian Philadelphia which I quite enjoyed as it is one of my favorite historical periods. The slow angst gives way to fast paced adventure and despite being slightly predictable at times, it is very engaging.
I loved the Spirit Hunters, especially when I realized that the descriptions fit Sam and Dean Winchester perfectly. I mean come on, don't you see it? Spirit Hunters = Hunters, Joseph Boyer is Sam Winchester, the nerdy, tall, and smart guy who happens to have a French accent. Daniel Sheridan is Dean Winchester, the green eyed, tall, inventor and who is slightly gruff. Like, sweet heaven!!! And there is art that exists with them in the Victorian era so that helps as well. The Spirit-Hunters use magic to fight the Dead and it's really awesome.
Joseph Boyer aka Sam Winchester
Daniel Sheridan aka Dean Winchester
(You have to admit, it works really well)
There is also a badass female character named Jie from China who ran away with the help of her uncle so that she could live a better life. She's bald except for a braid and has awesome self-defense moves! I loved her so much and I liked that she and Eleanor developed and unlikely friendship. You'll see what I mean if you have/ when you do read the books.
I won't say much about the villains but I will say that I loved them and I can't wait to see what happens with them in the sequels.
The entire first book sets up the scene for the next ones really well along with strong character depictions. This is probably my favorite scene from the entire book and it goes like this-
"Just before Jie and Daniel reached the street, Daniel stopped. He twirled around and gazed up at me, as if he had sensed my eyes on his back. He strode a few steps toward me, paused, and then strode two more. He slung his cap off and pressed it to his chest. Then, with the casual grace that marked all of his movements, he dropped to one knee and bowed his head. He was declaring fealty to his empress."
Cue tears. I was a sobbing mess at how Sooz had managed to give me feels and such strong ones at that. I was so tempted to pick up the second one but I knew if I did, I might lose the magic of the first one. I plan on picking up the second book soon and then dying of feels when I finish it.
I gave this unexpectedly awesome book a 4/5 stars.
If you've read this book and finished the series, let me know in the comments what you liked and what you didn't. Until the end of time, embrace your weird!