Hollow City by Ransom Riggs is the second book in the Miss Peregrine's Home for Peculiar Children series and follows the adventures of Jacob Portman once he realizes his grandfather's stories aren't fables but his life as he had lived it. If you have not read this book, please proceed with caution as there may be spoilers. If you wish to read my review for the first book, you can read it here.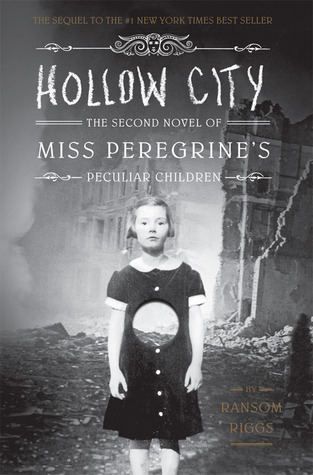 How creepy can you GET. Darn awesome cover.
Rating- 5/5 stars
Publisher- Quirk Books
Pages- 394 (Hardcover)
Alright, we pick up right where we left off, with the orphanage bombed and the children using boats to get across to the mainland. The characters that were focussed on mostly were Horace, Bronwyn, Enoch, Emma, Olive and Jacob. These characters had a lot of character development that happened for them and major surprises along the way as well.
As compared to the first book, this one didn't have as much action. There were big adventure scenes that were absolutely exquisite and I loved the introduction of the peculiar animals. I liked the concept of using the Peculiar Tales to reveal truths, a lot like the Tales of Beedle the Bard in Harry Potter. The world description of the loop was so wonderful and happy even though the children are on a dangerous mission. I liked the balance between light and dark.
The plot progression is more aggressive and a lot happens that was unexpected. At times I felt like I had been transported by Dan Brown into Robert Langdon's world if only he were created during World War II and there were moments that felt real, in our world, happening next door. It is astounding and disorienting at times but it makes you happy by the time you're done.
There were several new characters with special powers that were introduced though I doubt we'll see some in the future. There's a girl who is telekinetic and brothers who have the powers of bats. Those boys were creepier than any of our main cast and felt like they'd been drudged up from bad dreams. I liked them and I hope we can see more in Library of Souls. We had another girl who could create ice (Elsa anyone?) and hell if she wasn't awesome. It would've been nice to have her alive and see how she would've done in the next book but alas! we are robbed off her.
Major twists, such major twists. At the end of the first book, their objective is so simple- save Miss Peregrine, find another loop, plan, and then maybe attack the wights and hollowgasts. This book, lets add 300 tons of more work on them that had no chance of existing. It's so crazy and amazing!!!! I swear if I read the next one, I might regret it. The book ended on SUCH a crazy note that I was stunned. Luckily it was in time for the third one or I might've gone crazy. So much awesome I can't even tell you. Read it and you'll love it for eternity.
Finally, I want to talk about Jacob and Emma. This pairing has existed since book 1 and even though at first I was excited for the two, now I just think it's weird. Emma had some valid points when she said she was dead on the inside and only a reflection of who she really is on the outside, factor in the fact that she dated Jacob's grandfather and it just feels even weirder. We have a pair here, of a young couple in love, but in fact one of them is 82 years old and one is only 16. That's what I don't get- how does it even work? I know this is practically tertiary in the book but it also influenced Jacob's decision to stay with the peculiar children. Their relationship frustrates me to no end.
Anyway, in conclusion, this book is wonderful and so is the series. If you haven't picked it up yet, do and now that the third book is out you can binge read it.
I rated this one a 5/5 stars.
In case you didn't know, I have a Patreon page that if you want to you can become a patron of and help me in my journey of buying books and reviewing them. I won't stop posting reviews if you don't but a helping hand will help me a lot. You can check out my page here.
I hope you enjoyed this post. Keep being weird and abnosome!