Yes Please is Amy Poehler's memoir, in which she describes her journey from school stage to Boston to Saturday Night Live and Parks and Recreation. Along with personal anecdotes, this book is perfect for fans of Amy Poehler, looking for some advice from their role model.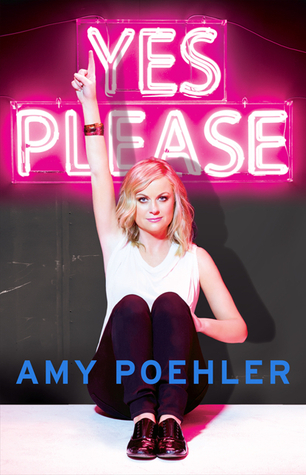 Lovely cover. She looks beautiful and her raised hand just adds to the significance of the title.
Rating- 3.5/5 stars
Publisher- Harper Collins
Pages- 329 (Hardcover)
Despite not having much exposure to her work, I enjoyed this book. I listened to it on audiobook and read the hard copy (because pictures) and quite enjoyed her journey. We all have big dreams and seeing hers come true in a sort of first hand experience gives aspiring actors, writers, dramatists, musicians- basically anyone trying to get a toe in the industry, hope.
I loved the honesty in this book. Amy Poehler laid all her cards on the table and I loved how she did it. Sometimes the truth can upset people who admire someone, cast a shadow on their idol. But at times it makes it easier to accept that regardless of the celebrity status, they're human too and have needs just like you or me. That honesty was refreshing and made me like her a lot. It may have even encouraged me enough to dive in and watch some SNL.
Another thing that I liked was that she was able to freely express her love for the people she's met or the work she's done. There are quite a few people mentioned in the book and there's always this feeling of affection associated with it. There is little regret and many lessons learned and humorous advice provided. It is so realistic that it feels like there are no barriers between her and us, like she's sitting next to you holding a beer and chatting about everything that's happened in candid detail and no holds barred. That friendliness, that I'm-human-too, can be felt just as easily as the paper of the book.
All in all, I liked it. I may not pick it up again but I learned a lot about things that I was lost on and that made me feel better.
I gave this book a 3.5/5 stars.
PS- If you don't know, I have a Patreon page now. It's so that I can buy books easily and don't have to use my parents money and review them. That does not mean that I won't post if I don't get money. The posts will keep coming but if you feel like lending a helping hand, you can check out my page here.
And remember, keep being weird and abnosome!