Book of Shadows by Cate Tiernan is book 1 in the Sweep Chronicles that follows Morgan Rowlands, an ordinary high school girl whose life gets turned upside down when a new student, Cal Blaire, turns up at school and invites her and some of her friends to a party.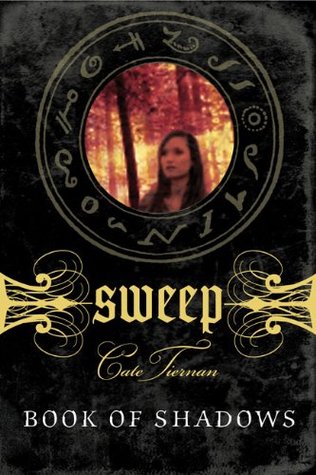 The cover makes the book look like a Book of Shadows *_*
Rating- 4/5 stars
Publisher- Speak
Pages- 176 (Paperback)
So, this book is really short and quick. Morgan is a devout Catholic girl but when she meets Cal Blaire and takes part in his circle one night, is revealed to be a witch. She learns she has a lot of power and capable of doing a lot more than any of her friends. Things go sideways when rivalry takes root between her and her best friend Bree, who is trying her best to ensnare Cal.
I love witches and I love Wicca. It is a beautiful religion and I instantly picked up this book when I read the synopsis. I can't say much because each book has so much content in it that even a small detail feels like a spoiler. Regardless, I loved the plot for this book. It's a solid start to the story and the characters have an excellent outline. I especially love the Book of Shadows entries that are written at the beginning of almost every chapter. It's like reading two stories parallel to each other but then they intersect at some point and makes so much sense.
All the characters are great. Morgan is really well written in this book but at times I felt she got annoying. I loved her sister Mary K., she's adorable and cute. I also really love Robbie, David and Alyce which I did not expect. Those are some storylines that I would love for to be explored more in the remaining books. There are 15 books so I'm hoping I get to see a lot more of that.
There was a lot of Wicca technicality that I absolutely loved. It almost makes me wonder if what Cate Tiernan has written can be practiced because I haven't read much in the books I have so, that's something I found to be very interesting.
Overall, it's a great book. It's like a TV Show episode and the 15 books are 15 episodes in a season. They are very addictive and I plan to finish most of them as soon as I can.
I rated this book a 4/5 stars.
Let me know in the comments if you plan to pick this up or you've read it and I will see you in my next post. Keep it weird!