It's October! My favorite month of the entire year! YAAAAAAAASSS!!!!!!
I can't help it, I really love Halloween and Fall and sweaters and it's just happiness for me.
So, for this month I might have a slightly over-ambitious TBR but I'm hopeful I will get through it.
Imagine having the complete set. They're really pretty!!
First off, I will be reading most of, if not the complete, Sweep Chronicles. I'm already finished with 3 books and am well on my way to finish the fourth one. They're fairly short and easy to get through. I love witches and I picked up the series on a whim and now I'm addicted. Each book reads like a TV Show episode and there's so many awesome facts in it I've fallen in love with it completely. If you want to pick this series up and you like witches too, please do.
Like- this cover. Hot damn. Beats every cover so far. I love it. Absofrikkinlutely beautiful. Definitely make-out worthy
Next, I FINALLY GOT QUEEN OF SHADOWS BY SJ MAAS!!!!! OMG It's been so DIFFICULT to just get the ebook and read it instead of waiting for my hardcover but it's here and I'm in love and I can't stop reading. I'm halfway through even though I got it yesterday and I can't seem to let it go. Sweet lord, it feels like salvation and I'm in heaven. It's so good to be with Aelin again.
This cover. OMG. And the hardcover has blackened edges of the paper *faints*
For the Booksplosion Book-of-the-month hosted by Jesse @ jessethereader, Christine @ polandbananasBOOKS and Kat @ katytastic over on YouTube, I am reading Six of Crows by Leigh Bardugo. This is the companion series to the Grisha Trilogy based on the same world. You don't have to read the Grisha trilogy to read Six of Crows because all the characters are completely different. It's described as a fantasy- Ocean's Eleven and I concur with that statement. I'm a third of the way through and it is amazing. The story is about a gang of outlaws who are consigned to pull off an impossible heist involving a prison break and there's a whole lot of money involved. Seriously guys, read it.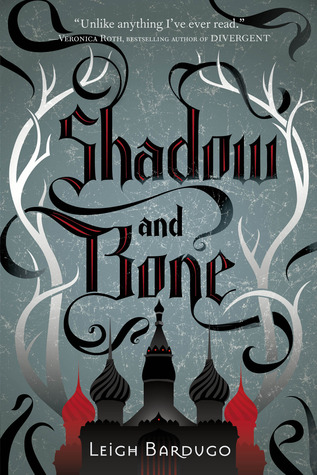 UGH WHY ARE ALL THESE COVERS SO PRETTY!!!!??? *heart eyes*
Then I have Shadow and Bone by Leigh Bardugo. I started this simultaneously with Six of Crows because why not? It's a great opportunity to start the series and it's really amazing. I love the world and all the characters are stunning. If you haven't picked it up, please do. It's got that Russian vibe that I really love and enjoy thoroughly. If I finish this, I will definitely be picking up the next one.
Creepy. Me likey
For the Bibliophile Gathering Read-Along, I will be reading The Dead House by Dawn Kurtagich. This coincides with the spooky theme for October. I have no idea what this book is about and will be heading into it completely blind. I do get scared easily but I'm trying to make myself immune by reading haunted/paranormal/horror themed books. If you'd like to join in, click the link above.
I admit, I got drawn in because of the cover but seriously, look at it. It's so damn beautiful!!! It's real hot in my opinion
I requested this book from Curiosity Quills Press and am already reading it. It's called Fairy Keeper by Amy Bearce. The story follows a young girl born with the mark of the Keeper and is responsible for keeping her fairies safe and harvest their nectar for her father who uses it to create hallucinogenic drugs. When she goes on her usual rounds and finds her fairies dead and the Queen missing, she sets out to find her and prevent her sister from being sold by her father. Instead, she gets tangled in something much bigger than she anticipated. This book is a slow pick up so far but I haven't made much of a dent, so hopefully it gets better.
Well, those are the books I plan to read for October. Hopefully I will get through all of them and get to read more books than I've listed. What scary book do you plan on reading this month? Let me know in the comments! If you have any recommendations, feel free to recommend them.
Keep being weird!!