Shadow and Bone by Leigh Bardugo is the first book in the Grisha trilogy and is a Young Adult Fantasy. There are some spoilers so, be careful before reading!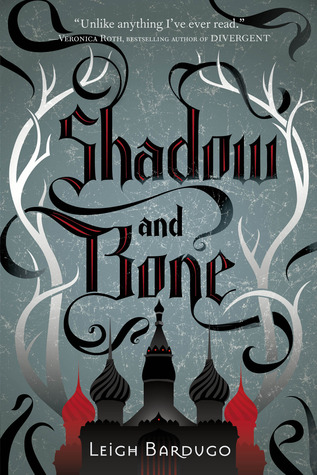 This cover is absolutely beautiful. I love it.
Rating- 4/5 stars
Publisher- Henry Holt and Co.
Pages- 368 (Hardcover)
The book follows Alina Starkov, a seemingly ordinary girl who is an average map-maker. When she and her fellow comrades are chosen to make the crossing across the Unsea with the Darkling, her hidden power as a Sun Summoner emerges. Without haste, she is picked up by the Darkling and taken to the Little Palace, where the Grisha live. At the palace, she must deal with her new status upgraded from map-maker to Grisha, learn to summon her power and control it, and learn all she can about Grisha history. But things change when she realizes that there is a lot more going on at the King's court than anyone could ever know.
I've heard a lot about the Grisha trilogy and I picked this book up along with Six of Crows so that I could delve into the world with new information and existing information. There is a lot of good surrounding the story but I was a bit disappointed with what I read.
Everyone loves the Darkling but the guy's a creep. I was enamored by his black everything at first and how he was this brooding, dark haired prince but when I read on, I started hating him. The things he does make my skin crawl and I would not want to be caught with him in a dark alley ever.
Alina seems like such a weak character in the beginning and reading from her perspective got a bit annoying. I wasn't very impressed by her character but I hope that changes in the next book. Also, her connection with the collar and the way she reacts to it, is it possible that she might get addicted and also corrupt by the power? The way she reacted at the end when Mal tried to get rid off it seemed like she might be on her way to being driven mad by its power. And is it really true she's the only Sun Summoner? Isn't it possible that there's another one?
Mal seemed a bit unimportant. He makes a great love interest but that's about it. The twisted love triangle between the Darkling, Alina, and Mal seemed a bit redundant and disposable. Why must love triangles exist?!
Baghra claimed to be the Darkling's mother but is it true? Did the Darkling keep Baghra around to keep an eye on her? There are just so many questions! And what about the Darkling's father? Who's that guy? Or was the Darkling created and which is why he only has a mother?
Genya was a fun character. She was one person who I just wanted should have more but at a price less steep than the one she paid to get it. I really liked her sass and her acceptance of Alina in the Little Palace. I hope I get to see more of her in the next book.
I loved the Russian vibe I got in this book. I love the Russian language and seeing it in this book was really exciting and I loved it a lot.
This book is a solid first book for the series and it may look like I had issues with it more than I enjoyed it but that's not the case. I loved the story but I just have so many questions about the characters that I'm hoping they get resolved in the next one.
I rated this book a 4/5 stars.
If you would like to read by review of Six of Crows by Leigh Bardugo, click here!
I hope you enjoyed this post! Comment down below what you thought about it and I will see you in my next one!
—
Leigh Bardugo is the New York Times and USA Today bestselling author of the Grisha Trilogy (Shadow and Bone, Siege and Storm, and Ruin and Rising).
She was born in Jerusalem, grew up in Los Angeles, and graduated from Yale University, and has worked in advertising, journalism, and most recently, makeup and special effects. These days, she's lives and writes in Hollywood where she can occasionally be heard singing with her band. Her new book, Six of Crows, was released on September 29, 2015.