The Bibliophile Gathering Read-a-long of the month was the Dead House by Dawn Kurtagich, keeping with the theme of October. I'm a wuss and get scared fairly easily but this was something else.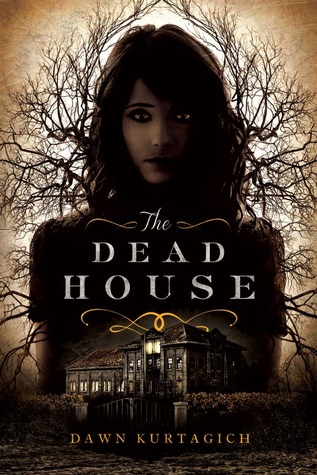 The cover is so creepy and beautiful. It's perfect
Rating- 4/5 stars
Publisher- Little, Brown
Pages- 400 (Hardcover)
The Dead House by Dawn Kurtagich is a Young Adult Paranormal Horror that focuses on our two main characters, Kaitlyn and Carly. Twist, they're the same person. Carly Johnson has Dissociative Identity Disorder (Multiple Personality Disorder) and Kaitlyn is her alter. The book is a collection of newspaper articles, video snippet conversations, images, therapy conversations, police statements, and diary entries. The story starts of innocently enough, with a newspaper article describing a vanishing and three murders at a prestigious private school and then transitions to events prior to the event and after it.
I took this as a simple psychological thriller at first because of the Goodreads summary but when I got into it, I started getting the creeps. I read this book several times at night when no one was in my house and I have never been so creeped out. I dreamt about the book every night while I read it and it played on my mind a lot. This book is not to be taken lightly.
Dawn Kurtagich did a great job of making all the events seem realistic and based on true events so that by the end of it you were left wondering if the book was actually real or not. Kids, do not read this alone at home, especially if you live in a big house and there's no one at home; unless you enjoy that stuff then go ahead.
Despite the crazy creeps and scares, it was fabulously written. The book was perfect for October and I did enjoy it. For anyone looking for a good scare, definitely pick this book up, you won't regret it.
I rated it a 4/5 stars.
Let me know in the comments what books you read in the month of October that were spooky and I will be back with another post soon!
—
Dawn Kurtagich is a writer of creepy, spooky and psychologically sinister YA fiction, where girls may descend into madness, boys may see monsters in men, and grown-ups may have something to hide. Her debut YA novel, The Dead House, is forthcoming from Hachette in 2015.
By the time she was eighteen, she had been to fifteen schools across two continents. The daughter of a British globe-trotter and single mother, she grew up all over the place, but her formative years were spent in Africa—on a mission, in the bush, in the city and in the desert.
She has been lucky enough to see an elephant stampede at close range, a giraffe tongue at very close range, and she once witnessed the stealing of her (and her friends') underwear by very large, angry baboons. (This will most definitely end up in a book . . . ) While she has quite a few tales to tell about the jumping African baboon spider, she tends to save these for Halloween!
She writes over at the YA Scream Queens, a young adult blog for all things horror and thriller, and she is a member of the YA League and Author Allsorts.
Her life reads like a YA novel.