Black Widow: Forever Red by Margaret Stohl was one of my most anticipated releases for October and I was not disappointed in the least. The fact that there is going to be a sequel, makes me the happiest person on the planet.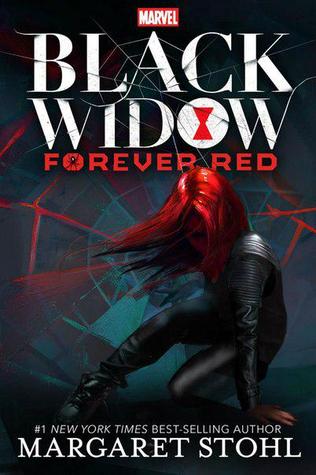 *makes turtle noise* HOW CAN YOU RESIST THIS JUST BY THE COVER??
Rating- 4.5/5stars
Publisher- Marvel Pages
Pages- 401 (Hardcover)
Here's a little synopsis to get you curious –
Enter the world of the Avengers' iconic master spy
Natasha Romanoff is one of the world's most lethal assassins. Trained from a young age in the arts of death and deception, Natasha was given the title of Black Widow by Ivan Somodorov, her brutal teacher at the Red Room, Moscow's infamous academy for operatives.
Ava Orlova is just trying to fit in as an average Brooklyn teenager, but her life has been anything but average.The daughter of a missing Russian quantum physicist, Ava was once subjected to a series of ruthless military experiments-until she was rescued by Black Widow and placed under S.H.I.E.L.D. protection. Ava has always longed to reconnect with her mysterious savior, but Black Widow isn't really the big sister type.
Until now.
When children all over Eastern Europe begin to go missing, and rumors of smuggled Red Room tech light up the dark net, Natasha suspects her old teacher has returned-and that Ava Orlova might be the only one who can stop him. To defeat the madman who threatens their future, Natasha and Ava must unravel their pasts. Only then will they discover the truth about the dark-eyed boy with an hourglass tattoo who haunts Ava's dreams. . . .
This was supposed to be a Black Widow origins story and I think it did live up to that even though there were many readers who said that it concentrated more on Ava and Alex that Natasha. But I think was Margaret Stohl was trying to do was to convey how Black Widow came to be through these two characters who were somehow connected to her.
The format of the book was multiple point of views mixed with interrogation transcripts and files. Even though Natasha Romanoff shared the spotlight with these other two characters, it still felt as though her story was being revealed through their eyes.
I absolutely loved this book. I've been the biggest Black Widow fan since Iron Man 2 and even though I don't read the comic books or graphic novels, I hope to in the future. The story had all our favorite Avengers and beloved S.H.I.E.L.D agent, Agent Coulson as well. I liked how there was a completely different side to Natasha that was revealed, her with a heart and more details of what ties her to Russia. I also loved the Russian that was spread throughout the book because I'm a sucker for that language. To me, the language is beautiful and so unique and I can't help but love it.
The story in itself started off a little slow. You have to keep reading past a certain number of pages for things to pick up and it was more than worth it. Just seeing Black Widow in her element helping people in the badass way that she does was absolutely amazing. I don't know how to explain how awesome this book was without giving out spoilers I mean, it's Black Widow. Just read it.
Also, you might want to prepare some tissues just in case because my shirtsleeves were pretty soaked through by the time I finished this book.
There will also be a sequel to the book coming out in 2016 and I can't WAIT!!!! And I think you will too after you're finished with this book.
Rating- 4.5/5 stars. I might just read this for kicks again.
—
Margaret Stohl is the #1 New York Times, PW, USA Today, LA Times and Internationally bestselling co-author of the BEAUTIFUL CREATURES NOVELS (Fall 2009-2012) and author of THE ICONS SERIES (Spring, 2013.)
From the Author-
Writing has gotten me in and out of trouble since I was 15 (back then, mostly just in trouble.) For 10 years, I designed &/or wrote for lots of video games, one of which was nominated for "Most Innovative Game Design," but I lost to a rapping onion. If you know games you get why my two bad beagles are named Zelda and Kirby.
School: I spent more years in it than a person ever should, because let's face it, reading books is so much better than having a job. I fell in love with American literature at Amherst and Yale, earned an MA in English from Stanford, and studied creative writing under the late great poet George MacBeth at the University of East Anglia, Norwich. I taught Intro to Film as a TA at Yale and Romantic Poetry as a TA at Stanford. Don't tell the people at Yale but sometimes I taught the section before I'd seen the movie it was about…
I live in Santa Monica, CA, with my family, most of whom were enslaved into working with me in one form or another on my first YA book for Little, Brown. I'm not kidding; when my daughters wanted to go to school I said "Why are you so selfish? Get back in there and edit," and by said I mean yelled and maybe threw things, it's all a haze. Now the Beautiful series has wrapped, but you can see the movie on February 13, 2013 or read my new book ICONS on May 7th. Nothing gold can stay, Ponyboy.