Illuminae by Amie Kaufman and Jay Kristoff was one of my most anticipated releases for October and I read it in November as the Booksplosion Book of the Month hosted by Jesse, Kat and Christine on YouTube. I'm not a big Sci-Fi fan in books but hot damn, this book was AH-MA-ZING!!!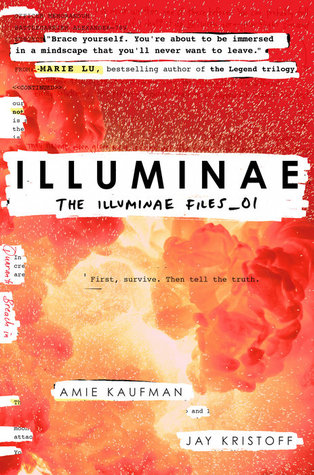 Guys, this cover- I can't- it's breathtaking!
Rating- 5/5 stars
Publisher- Knopf Books
Pages- 599 (Hardcover)
Illuminae is a Sci-Fi, futuristic novel that is set several centuries in the future and follows multiple perspectives but in the non-traditional sense. The book is composed of emails, instant message conversations, files, reports, articles, redacted documents- it's nuts and absolutely amazing. The story opens with a break-up between our main characters followed by a massive attack on their colony by a company named BeiTech. Survivors are rounded up and boarded on three different ships, Copernicus, Alexander, and Hypatia. After one ship gets attacked and destroyed based on a command from Alexander's AI AIDAN, everything hits the fan. People get infected by a virus that reminded me of Resident Evil and run around killing each other Jack the Ripper style. Kady and Ezra, our main characters, try their best to get everything under control and reveal what higher management is hiding from everyone on-board these ships and what they learn basically scares everyone's pants off.
My goodness, this book, I went in with no expectations at all and it blew me away. The format of this book, first off, is the coolest. I read another book this past year with a similar format (The Dead House by Dawn Kurtagich) and reading another book with a similar format was real cool. Also, I'm a computer science and engineering graduate so there were a lot of things, especially terminology, that I was familiar with and freaking over majorly. It was very well researched in terms of Artificial Intelligence, programming, hardware etc. and I was thoroughly impressed.
The character development is unbelievable. I fell for characters I had no idea was possible and yes, there were times I wanted to strangle them too. I absolutely loved Kady and Ezra and their IMs. I even liked AIDAN who graduated from being pure AI to something with a personality and it's own decision making abilities (Rise of the Machines, anyone?) which is fairly plausible. Siri (for iOS users) and Cortana (for Windows users) are two examples of artificial intelligence interfaces that are designed to learn from our speech patterns, requests, questions- whatever we might ask of them. It might not be completely improbable that in the future hardware might improve and algorithm programming excel to a point where the AI could 'wake up' from just being a puppet. It seemed like an interesting point that was brought up and I really liked the fashion in which it happened.
Also, very badass female character. I absolutely loved that she was the one getting stuff done and beating all the boys at their game. Kady Grant, I freaking love you so much.
Anyone else thing Felicia Day would make a great Kady if there was ever to be a movie/tv show?
The plot was brilliant. I was surprised when I hit the 200 page mark and I was like- so much has happened and it's only a third of the book yet! Dang, there was a whole lot more in the remaining 400 pages that blew my mind. I was kind of glad that the demented Resident Evil zombie apocalypse wasn't the main plot point. It was happening but it was a side thing and it was more about fixing things and saving people and getting the hell out before BeiTech's ship came to shred their metallic ship butts to pieces. Also, did I mention there's a romance and the weirdest and most unexpected love triangle? Like, it was freaky and I went with it and it was weirdly okay.
And I really didn't because there wasn't enough time for it to develop. I really want to see what happens when the next book comes out just for that triangle.
All in all, this was absolutely amazing. Like- fan-freaking-tastic.
If you aren't picking it up because of the hype, please just give in and get it. It is absolutely amazing and the entire hardcover book and jacket is pure beauty. GET. IT.
I rated this book a 5/5 stars for pure nerve and outstanding courage.
Have you read Illuminae? Did you like it? Did you LOVE IT?! LET ME KNOW BOOKWORMS!!!!
—
Amie Kaufman is the New York Times bestselling co-author of Illuminae (with Jay Kristoff) and These Broken Stars, This Shattered World, and Their Fractured Light (with Meagan Spooner.) She writes science fiction and fantasy for teens, and her favourite procrastination techniques involve chocolate, baking, sailing, excellent books and TV, plotting and executing overseas travel, and napping.
She lives in Melbourne, Australia with her husband, their rescue dog, and her considerable library. She is represented by Tracey Adams of Adams Literary.
Jay Kristoff is the award-winning author of THE LOTUS WAR trilogy, a Japanese-inspired steampunk fantasy. Part 3, ENDSINGER, is out now. He's also co-author of the upcoming ILLUMINAE (with Amie Kaufman), a YA Sci-Fi… thing, to be released by Knopf/Random House in 2015, and NEVERNIGHT, the first part of a new fantasy trilogy kicking off in 2016.
Jay is 6'7 and has approximately 13380 days to live. He abides in Melbourne with his secret agent kung-fu assassin wife, and the world's laziest Jack Russell.
He does not believe in happy endings.