Hey y'all! I was tagged by abdeahdavis @ Under the Midnight Sky to do this tag and I'm so excited because this is my first one! This tag was created by Penguin Teen as a promo for Frozen Tides by Morgan Rhodes, the fourth book in the Falling Kingdoms series. Without further ado, here are the questions!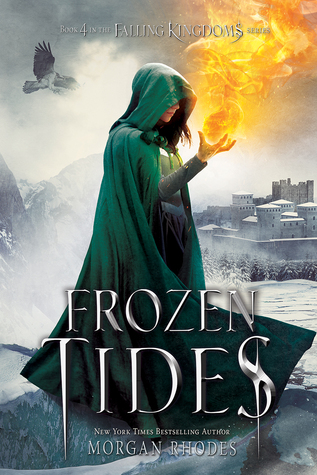 Q1. In Mytica, there are constant betrayals and you can't trust anyone. Who do you trust to be your companion on this adventure?
I have three ladies for this, one is Aelin Galathynius because come on, she's badass as hell and even though she's Queen, I guess she wouldn't mind being a companion. Then there's Eleanor Fitt from Something Strange and Deadly by Susan Dennard. She has great potential and I can't wait to read the rest of the books and I really think she's amazing. And I'd love to take Inej from Six of Crows by Leigh Bardugo along. She's one character that had me in her clutches the minute I read Six of Crows and damn, she'd be freaking amazing to have my back.
Q2. You'll come across many who want to kill you in Mytica and you have to fight. What kind of warrior are you?
Well, I fancy myself an assassin-like warrior. Cunning, ruthless, threatening to anyone who tries to hurt me or mine. Black Widow combined with Aelin Galathynius and Inej, I'd like to be that.
Q3. Which fantasy world would you like to conquer?
This is a bit difficult… I'm ridiculously partial to Middle Earth and recently, Terrassen- so yeah, those two I'd love to conquer.
Q4. Which character would you choose to rule by your side?
A few actually. Karou from Daughter of Smoke and Bone, Rowan from the Throne of Glass series, Aragorn from Lord of the Rings, Delilah Bard from a Darker Shade of Magic series, Safi from Truthwitch… Yeah I think that's enough now.
Q5. Who would you throw in a dungeon?
Pshh, that's easy. The King of Adarlan from Throne of Glass, Holland from A Darker Shade of Magic, Sauron from Lord of the Rings and good ol' Voldemort because they deserve to rot for eternity for their atrocities.
Q6. Who gets stabbed in the back?
YES! SO many. Elliot Cardale from Vicious by V.E. Schwab, Arobynn Hamel from Throne of Glass, Dolores Umbridge, the Red Queen from the Queen of the Tearling, Saruman from Lord of the Rings- yup, those are the ones I want to stab a few times in the back.
Q7. What elemental magic would you choose to yield?
Water! I've always associated myself with water and I wouldn't pick any other element. Imagine being able to control the rain, puddles, the shower even!! That would be amazing.
TAG!!!!
I tag Amy @ Book Enthral, Kim @ By Hook or by Book, Zin @ Books 'N' Feathers and YOU if you want to!
Leave a link to your post if you do do the tag. Thanks for reading!