*** THIS POST IS SPOILER FREE***
One of my most anticipated reads of the year, Winter by Marissa Meyer was released which is the concluding book of the Lunar Chronicles series. When I picked up the series, I was hooked- I was unable to put it down and I also had exams at the time but I was gone too far to stop. I absolutely loved this series, the retellings are so good and exceedingly enjoyable.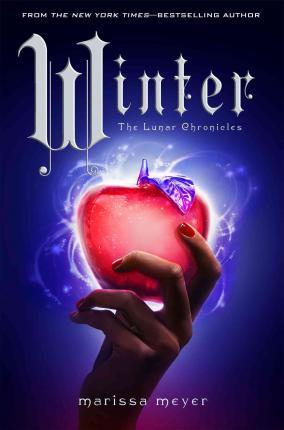 Rating- 5/5 stars
Publisher- Feiwel and Friends
Pages- 827 (Hardcover)
I read Winter as part of the Booksplosion Book of the Month hosted by Jesse @ jessethereader, Kat @ katytastic and Christine @ polandbananasBOOKS from YouTube. This was the first book I read this month and I loved every minute of it.
Quite a few characters shone through in this book, I was instantly in love with Winter because she was different and reminded me a lot of Luna Lovegood. She's innocent but she has this interesting way of making herself useful and making things happen and I absolutely loved that.
Cinder, Scarlet and Cress were absolutely fantastic. I was so glad to see Scarlet doing more than she has in the past. I was very impressed with her character building. Cress was so cute and so amazing, I can't even. She goes from a timid little girl living in a satellite to someone taking charge and making sacrifices and taking risks which was so awesome. Cinder was pretty much a prop, her role was almost completely limited to being Princess Selene which was quite disappointing.
For the boys, I want to adopt Wolf so bad. I want to cuddle him and keep him safe. Marissa Meyer gave me all the feels with his character and I can't wait to reread the series just for him. Ugh, READ THIS BOOK!!! Thorne was so adorable and flustery and I just- he was amazing. I want more Captain Thorne, these books weren't enough at all.
Queen Levana and Thaumaturge Aimery, I hate those two so much. I want to slowly flay them alive and then make them beg for death, especially Aimery for what he does. So. Much. Hate.
ALL THE OTPs!!! THANK YOU MARISSA FOR MAKING THEM ALL HAPPY!!!! All the love stories came true and I was so happy and crying and oh my god please someone fangirl with me in the comments.
The story progressed at a fairly decent speed. My favorite part was when Scarlet and Winter go to persuade an entire regiment of wolf soldiers and she starts singing this poem. That had me turning pages so fast and by the end I was just hysterical, it was completely crazy and I loved every alphabet of it.
This book was a really great conclusion to this series. It's one of my favorite series of all time and I loved how well Marissa Meyer wrote the final book and gave it the ending she did. It was appropriate and quite amazing.
Definitely 5/5 stars. If you haven't yet picked up the Lunar Chronicles, what are you doing? Read them now!
—
ABOUT MARISSA MEYER
I live in Tacoma, Washington, with my fiancé and our two cats. In addition to my slight obsession with books and writing, I'm big on road-tripping, wine-tasting, and hunting for antiques. I'm represented by Jill Grinberg.
CINDER, my debut novel, is a futuristic re-envisioning of Cinderella in which Cinder is a cyborg mechanic. Release date: 3 Jan 2012.