My laziness knows no bounds which is why all my reviews, wrap ups, book hauls, everything is just delayed to the point where I just have to sit down and get to it.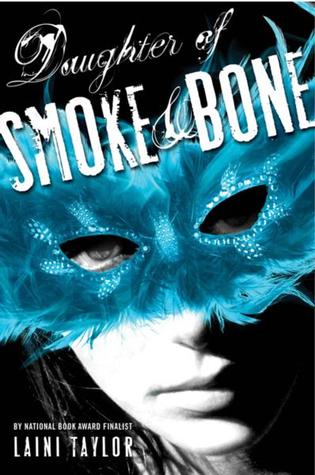 The covers will kill me one day. Love both of them so much
Goodreads/ Amazon (Paperback) Goodreads/Amazon (Hardcover)
Rating- 4.5/5 stars
Publishers- Hodder Books UK (Paperback)/ Little, Brown (Hardcover)
Pages- 420 (Paperback)/ 418 (Hardcover)
Daughter of Smoke and Bone by Laini Taylor is an Urban Fantasy that follows the story of Karou, who happens to have her feet in two worlds. The story setting is in Prague with gorgeous descriptions and sets a premise for the world building.
I absolutely loved this story. The writing is beautiful and whimsical, the characters are so lovable and realistic almost making it feel as though you'd see them in the streets of Prague if you visited.
The characters especially were very endearing. Karou with her blue hair is a fireball, her friends Zuzana and Mik are really great even though there isn't much written about them, I absolutely loved Karou's chimera famile- Brimstone, Yasri, Issa and Twiga, someone please link some fanart in the comments! The angels were an interesting lot, reminded me quite a bit of how the angels are on Supernatural and that just made me laugh.
A lot of readers really like Akiva but I don't for some reason. I don't even ship him and Karou together which almost never happens with me. I don't know if it's his personality or the way he acts, maybe the other books will change my mind but so far, I don't like him at all.
The epigraphs separating the book into 4 parts are my absolute favorite. When I hadn't read the series because I was busy studying, I would pull out the books and read the epigraphs from all three books and satisfy myself with that. When I finally got to read them in December, I discovered there was more than one and I went kind of crazy about them. I absolutely love them all and maybe one day I'll have them framed and hung around my study or office because those words are some serious magic.
I seriously loved this book a lot. As the first book in a series, most times they're off and then the series gets better but this one was off with a bang from the start. I've tried not to give spoilers at all because this book is honestly breathtaking and magical in every way and if you haven't read it, I hope this post gives you enough reason to pick it up. If this isn't enough, here's a little quote that might get you interested- Once upon a time, an angel and a devil fell in love. It did not end well. 
A 4.5/5 stars for me. What did you think of this book when you read it? Leave your thoughts below!
—
ABOUT THE AUTHOR
Hi there! I'm a writer of fantasy books for young people, but my books can be enjoyed by adults as well. My 'Dreamdark' books, Blackbringer (2007) and Silksinger (2009) are about faeries — not dainty little flowery things, but warrior-faeries who battle devils. My first young adult book, Lips Touch, is a finalist for the 2009 National Book Award! It's creepy, sensual supernatural romance. . . about kissing. I am also an artist with a licensed gift product line called "Laini's Ladies."