Rat Queens is one of my favorite graphic novel series and I had to treat myself to the second volume for Christmas and it was absolutely amazing.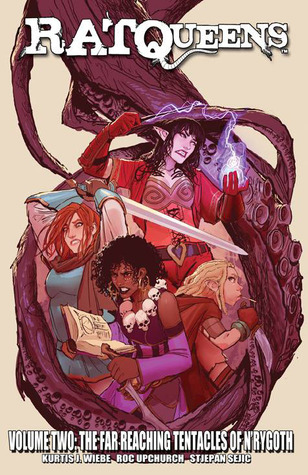 Can there be a more awesome cover?
Rating- 5/5 stars
Publisher- Image Comics
Pages- 128 (Paperback)
The art style is more mature compared to the first one which I quite enjoyed. I also liked the more explicit LGBTQ+ content and the focus on Violet and Dee. The story was just as fast paced as Volume 1 and the characters were more than amazing. Graphic novels have a way of expressing things in society that are not as welcome in a way that makes them feel normal and I love this bind up for doing that.
I don't know how I will survive without Volume 3 but I might just start picking up individual issues if that happens.
5/5 stars for me.
—
ABOUT THE AUTHOR
Kurtis Wiebe is a Vancouver, Canada based author who's been established in the world of comic writing since 2009. For his contribution to the critically acclaimed Green Wake, Kurtis was presented with the Outstanding Comic Book Writer Shuster Award.
Never satisfied with a specific style of writing, Kurtis has branched out to novels, videogames and screenplays. He spends his days at home, writing about the mad things that float around his brain, and occasionally escapes to various cities around North America to promote his projects.