Days of Blood and Starlight by Laini Taylor is the second book in the Daughter of Smoke & Bone series and almost picks up from the same point as it was left in the first book.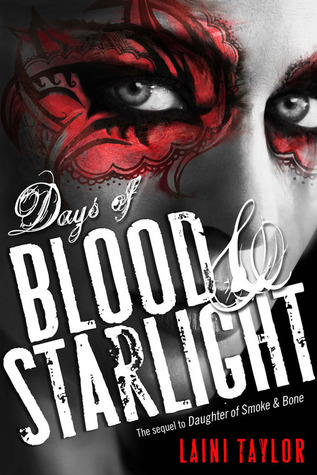 THESE COVERS ARE HEART STOPPING!!! Someone gift me the hardcovers
Goodreads/Amazon (Paperback)/ Goodreads/Amazon (Hardcover)
Rating- 5/5 stars
Publisher- Hodder Books (Paperback)/ Little, Brown (Hardcover)
Pages- 518 (Paperback)/ 517 (Hardcover)
If you haven't read this book, or the first one, there are slight spoilers here so please don't read any further until you've read the book or you're crazy like me and actually like spoilers.
Okay, everyone aboard? Awesome.
The entire pace of this book is slow and stretched as most middle books of a trilogy are. This book was only build-up for the third and final book which I hope will blow me away.
There were some things I was hoping would be dealt with in the book but they weren't like Karou coming to terms with her past as Madrigal, her conflict is more than palpable and I felt the need for a resolution of both characters which I hope happens in the final book.
Zuzana and Mik are, for sure, the bestest friends in the world. They're legit main characters in this book and I would give anything for there to be a spin-off series with them.
Thiago is, mind my language, a dick. He comes in the category of Arobynn Hamel, sick, sleazy, bloodthirsty, greedy, and all around gross and creepy. He makes my skin crawl and I had to resist throwing my book across the room every time he showed up on page.
I liked Akiva a little more in this book than the last one. I think the distance from Karou helped build his character up a bit more and allow for more of him to shine through in his element.
Hazael is seriously my favorite angel. He was so cute and adorable and when he died I just-
The angels, I hate them. They're such crazy and greedy creatures and remind me a lot of the angels on Supernatural, especially personality wise. Akiva's uncle is Metatron, there's no doubt. Hate him as much or more than Umbridge and that's saying a lot.
This book really was an interesting read. The writing was so whimsical and beautiful and I loved how it took its time with things and I can't wait to read the next one.
Rating- 5/5 stars.
Check out my review of Daughter of Smoke and Bone by Laini Taylor!