I picked up My True Love Gave To Me by Stephanie Perkins for a little winter Christmas fluff. It's a collection of 12 short stories from various authors including Laini Taylor, Holly Black, Rainbow Rowell and a few more. I had high expectations for the stories but a lot I found were just meh or okay.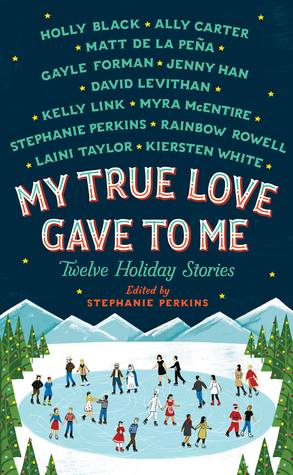 Ahhhh… Such Christmas!
Rating- 3.5/5 stars
Publisher- St. Martin's Press
Pages- 336 (Hardcover)
I had four favorites and they were-
Krampuslauf by Holly Black- This story blew me away. It made it seem normal for the anti-Claus to be real and I just loved Holly Black's writing. This was the first piece of writing I've read by her and I can't wait to read more.
Welcome to Christmas, CA by Kiersten White- There was a reality in this story that was so unexpected and it affected feelings that I haven't felt while reading a contemporary. Very good writing and the story was just the perfect combination of bitter and sweet. Loved it.
The Girl Who Woke the Dreamer by Laini Taylor- Creepy meets magical is Laini Taylor's specialty and this was amazing. The writing was beautiful and poetic and I absolutely loved this story.
It's a Yuletide Miracle, Charlie Brown by Stephanie Perkins- This story was outright adorable. The banter between the two characters was just awesome and I can't wait to read it again.
I gave this book a 3.5/5 stars. It's cute and goes great with the holidays. If you've read this book, what did you think of it? Let me know below!