I've been meaning to reread this book because I've thoroughly missed Finch and Violent but the only reason I hadn't before was because of the feels that leave me worse than a Winchester's death.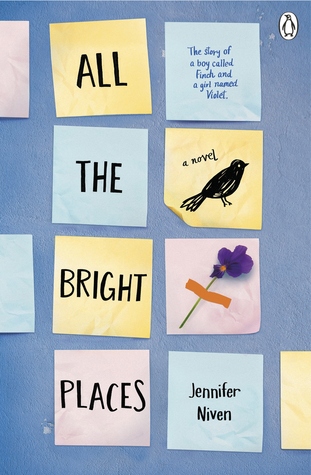 The story of a girl who learned to live from a boy who wants to die- That line had me and my friend grabbing the book off the shelf
Rating- 5/5 stars
Publisher- Penguin Books
Pages- 388 (Paperback)
If you haven't read this book and need a reason, this synopsis should help.
Synopsis
Theodore Finch is fascinated by death, and he constantly thinks of ways he might kill himself. But each time, something good, no matter how small, stops him.
Violet Markey lives for the future, counting the days until graduation, when she can escape her Indiana town and her aching grief in the wake of her sister's recent death.
When Finch and Violet meet on the ledge of the bell tower at school, it's unclear who saves whom. And when they pair up on a project to discover the 'natural wonders' of their state, both Finch and Violet make more important discoveries: It's only with Violet that Finch can be himself – a weird, funny, live-out-loud guy who's not such a freak after all. And it's only with Finch that Violet can forget to count away the days and start living them. But as Violet's world grows, Finch's begins to shrink.
Review
When I first read this book, I was wondering if Jennifer had been spying on my life because the book read like the relationship I have with my best friend. When I had finished it, I was begging my friend to not do anything stupid, that I wouldn't be able to live if something did happen. Reading it again this time was a big risk but one that I managed to survive, more whole than the last time. This book always brings tears to my eyes, the first time I was an insane sobbing mess like so-
The second time was more controlled but I was a bit sad still after reading it.
This book is so close to my heart that it scares me sometimes. Reading it is always an experience and I fall in love even more with Theodore and Violet. The story is just… it feels like it could be happening to someone you know and the truth in it kind of gets to me.
My favorite part while rereading the book was when Finch shows up at Violet's home one morning for breakfast without preamble. The way she reacts and the way he's just all innocent, like he wasn't itching to see Violet the minute he woke up. Finch is odd but his heart's in the right place and I loved him for that.
One of my favorite books of all time this one. Hopefully the next time I read it I'll be able to talk about it a bit more in detail.
Definitely a 5/5 stars.