Red Queen by Victoria Aveyard was my reread in preparation for Glass Sword which came out last month. I didn't quite remember what the finer points were until I read the book again and had a lot of fun.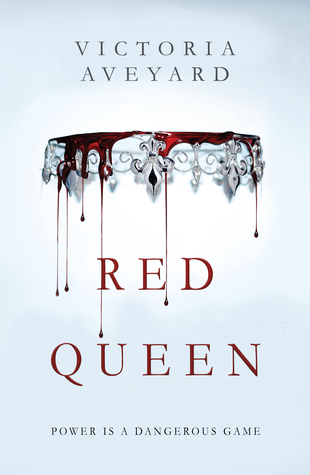 The end papers on the paperback are so beautiful and red with an amazing pattern and I love the cover because BLOOD!! (I have a problem I know)
Rating- 4/5 stars
Publisher- Orion
Pages- 383 (Paperback)
Synopsis
The Reds are commoners, ruled by a Silver elite in possession of god-like superpowers. And to Mare Barrow, a seventeen-year-old Red girl from the poverty-stricken Stilts, it seems like nothing will ever change.
That is, until she finds herself working in the Silver Palace. Here, surrounded by the people she hates the most, Mare discovers that, despite her red blood, she possesses a deadly power of her own. One that threatens to destroy the balance of power.
Fearful of Mare's potential, the Silvers hide her in plain view, declaring her a long-lost Silver princess, now engaged to a Silver prince. Despite knowing that one misstep would mean her death, Mare works silently to help the Red Guard, a militant resistance group, and bring down the Silver regime.
But this is a world of betrayal and lies, and Mare has entered a dangerous dance – Reds against Silvers, prince against prince, and Mare against her own heart…
Review
I absolutely loved this book. It was even better this time and the writing was great. I did find some things the same as the first time I read it, which was that it drags around in parts. I was upset that I almost went into a reading slump because of this book and that was not good. I think that's why I wasn't able to read much in February.
The characters were okay. I love Farley a lot more and Mare a lot less from the first time. She wasn't fun to read and actually felt a bit whiny. I did love Maven and Cal, especially Maven's betrayal which was just as good as the first time. Crazy twists have a way of making me super happy.
Overall, I still liked it a lot. I don't like Mare and even though she's practically the center of the story, it could do better with other characters with a greater part to play. I'm a certain ways into Glass Sword so let's see how she fares in that.
Rating- 4/5 stars