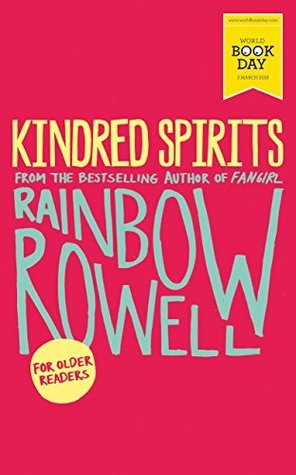 Rating- 3.5/5 stars
Publisher- Macmillan Kids UK
Pages- 96 (Mass Market Paperback)
Kindred Spirits by Rainbow Rowell came out as a special little book on World Book Day. I had heard that it would be Star Wars related and it was as fluffy as her books always are.
Synopsis
'Everybody likes everything these days. The whole world is a nerd.'
'Are you mad because other people like Star Wars? Are you mad because people like me like Star Wars?'
'Maybe.'
If you broke Elena's heart, Star Wars would spill out. So when she decides to queue outside her local cinema to see the new movie, she's expecting a celebration with crowds of people who love Han, Luke and Leia just as much as she does. What she's not expecting is to be last in a line of only three people; to have to pee into a collectible Star Wars soda cup behind a dumpster or to meet that unlikely someone who just might truly understand the way she feels. Kindred Spirits is an engaging short story by Rainbow Rowell, author of the bestselling Eleanor & Park, Fangirl and Carry On, and is part of a handful of selected short reads specially produced for World Book Day.
Review
The book brought up a very big thing that I've been questioning myself over the past few months- with everyone liking superhero movies and newer generations using Netflix to watch classic Sci-fi shows like Star Trek and Doctor Who or Buffy and Angel, who is or isn't a nerd anymore? There is so much vanity associated with that too. Girls who don't look the pretty nerd look are praised for watching anime but the ones who, by societal and traditional standards aren't, get ridiculed and the same goes for boys. This book did, in a way, raise a version of that problem- who is or isn't a nerd?
I think with the number of people falling in love with the nerd and geek all around can be classified as pop culture nerds. But there are purists and there are mixers, so there really is no real definition anymore. There are some who've watched the entire show from it's inception but there are some who choose the watch the newer versions. Some will read every comic book associated with superheroes and there will be some who will stick to the TV Shows and movies. Truth is, we're all nerds. And yes, you might feel like there are some people who don't completely get things but in this day and age, you can't really define boundaries any more. We're all nerds and geeks in our own way. Some are soft, some are hardcore.
I really loved that Elena was a purist- she'd only seen the original trilogy and not the prequels. My first Star Wars movie was Episode 3- Revenge of the Sith and I quite liked it. So when I finally watched the original trilogy and the remaining prequels, it was weird for me. I do love all 7 but I have a special attachment to the prequels because those are the ones I saw first.
I love how Rainbow can help me relate to fandom in this amazing way. It happened with Fangirl and now it happened with this book. My only complaint was that it was too short. It could've been lengthened a bit, a few things could've been a bit more detailed which might've added to the experience of reading the story.
This book is almost purely for Star Wars fans and even if you don't know Star Wars, substitute the references for your own favorite show, movie, or fandom and it'll work! It did give me nice feels and I think I should reread Fangirl soon.
Rating- 3.5/5 stars
Thank you for reading!
Carry On by Rainbow Rowell (Review)