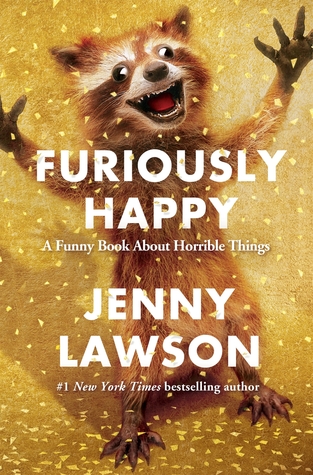 That raccoon gives me life.
Rating- 4.5/5 stars
Publisher- Flatiron Books
Pages- 329 (Hardcover)
I picked up Furiously Happy by Jenny Lawson at a time when I was quite depressed. I've been managing it well, it's become easier to wake up and do things but I was in a bad state with a reading slump and stress over my graduate school applications and so, I ended up picking this up.
It did the rounds on BookTube last year but I wasn't that intrigued at the time. After my friend read it, that's when I just got it and read it and it helped me get through that very tough few weeks.
This book is Jenny Lawson's second memoir (I think) and it's her taking a humorous stance on her mental illness. Reading the book just made me laugh like crazy. The story of the taxidermied raccoons, dressing up her cats at 3am in the morning because she has insomnia, taking a trip to Australia with her friend and dressing up as a koala- I could relate to so many things in those little incidents and it was so amazingly comforting.
She is a remarkable human being. The way she handles everything about her life and her complete acceptance of her mental illness is very inspiring. For me (no matter how many times I've read about it) knowing that there are big celebrities out there who have mental illness and are able to cope, make me realize that maybe, just maybe, I can get through life and do something good with it. There are a lot more people writing and talking about mental illness and my heart swells with happiness every time it happens.
My favorite parts about the book were the arguments she has with her husband. They were so funny and remind me of how I argue with a friend of mine sometimes.
I would definitely recommend this to people regardless of what you like or don't like. It is seriously amazing and a whole lot more people should be reading this book.
I rated this book a 4.5/5 stars.