Hello there! I've read a few cute contemporaries recently that were an excellent break between heavy fantasy and sci-fi reads. I enjoyed these books a lot and definitely recommend these to avid contemporary readers and also anyone who wants a little break from whatever other genre they've been reading.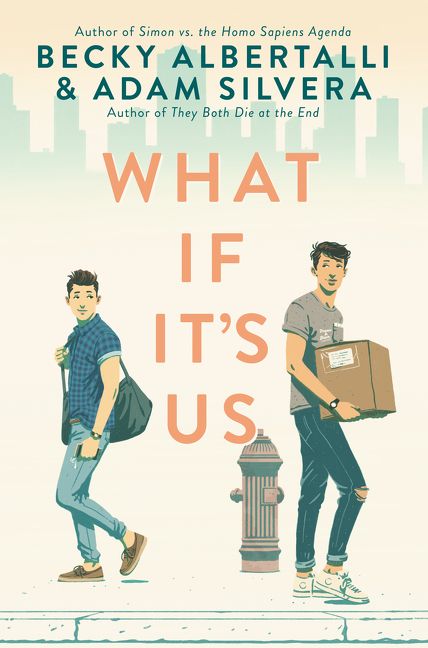 What if it's Us by Adam Silvera and Becky Albertalli
I picked this one up on a whim. I was browsing for new reads on iBooks and the new app gives a bunch of recommendations similar to what the reader might be reading. I was looking for some cute fluff to warm me during the cold holidays and I was very pleased. The story follows two boys, Arthur and Ben who run into each other by pure chance on a busy New York street near a post office. The story details how the boys find each other after that fateful day and the evolution of their relationship. I was especially impressed by the ending because it was not what I expected, very different from the other YA contemporaries I've read. Becky and Adam make a lovely team writing this book and if you're looking for some cuteness to comfort you, definitely give this a shot.
To All the Boys I've Loved Before trilogy by Jenny Han
After the excitement of "To All the Boys I've Loved Before" coming out last year on Netflix, I decided to pick up the series again because I hadn't read it since the first time. There were so many details I had forgotten, especially from the first book. Being back with the Covey sisters was such lovely joy. If you haven't picked up the series yet, highly recommend you pick it up and enjoy the series.
Geekerella by Ashley Poston
This is a delightful retelling of Cinderella, geek fangirl style. I fist saw this in a book store maybe two years ago and I've been wanting to read it. It showed up again in my book recommendations on iBooks and started reading it while re-reading Throne of Glass. This book, oh god, I couldn't put it down. If it wasn't for the fact that I had to work, I would've finished this book in one sitting. My fangirl heart fell in love with this retelling of Cinderella more than any one before. Ashley Poston did a wonderful job with this novel and I cannot wait for book 2. The story follows Elle Whitmer, who grew up watching and loving an obscure sci-fi show with her father called Starfield. After the passing of her father, things change drastically in the Whitmer household, not to mention the Starfield universe with the show getting a reboot with a rather famous, not-so geeky, leading man. A very special costume contest is announced with a chance for the winner to get two tickets to the premiere of Starfield and also a meet-and-greet with the lead actor. Elle vows to win the contest with her father's old costume but could not anticipate the events leading up to the contest. It's heart warming read with a lovely take on it. For all the fangirls and fanboys out there who want to read a book that feels quite familiar, definitely pick this book up.
Leah on the Offbeat by Becky Albertalli
This was definitely an unexpected pick for me. I was browsing the iBookstore and came across this as a recommendation. I also liked that the synopsis said that Leah was bisexual. It was the biggest reason for me getting the book after reading through the sample. I saw a video recently on Kat from Katytastic's channel on YouTube (link) about publishers being hesitant on putting female-female romances as part of the description. I don't really understand why they wouldn't say that a book had a F/F romance; these past few years have been the most gay friendly years in history. For me, if I read a book has a F/F romance, I will instantly pick it up. One could say it's because I'm biased because I'm pansexual but I've also enjoyed F/F romances for a long time. Publishers, please say if a book has a bisexual or gay/lesbian character or a F/F romance, trust me, we're looking for them.
Those were my recommendations in this love/spring season. I hope everyone had a lovely Valentine's Day weekend and found some adorable books to read.