I first started this series many, many years ago. I quite enjoyed Shadow and Bone but something happened and I couldn't get into Siege and Storm so, I quit the series. I picked up the Six of Crows duology when it came out and devoured it but I didn't feel the inclination to return to the Grisha trilogy… until now.
I picked up Siege and Storm because King of Scars came out and I knew there was a link between them and I am soooo glad I did.
Siege and Storm picked up around where Shadow and Bone ended except Alina and Mal are being pursued by his great villainousness, the Darkling. Disclaimer: I don't like Alina and Mal, I much prefer the Alina that I see when she's with the Darkling. Mal continues to be quite irritating, the pure Hero that don't enjoy in the least. Alina, however, becomes this grey character that I was intensely curious about.
There are spoilers in this review so, if you haven't read it, I would recommemd stopping here. If you don't mind the spoilers, you are welcome to read on.
So, this book is almost entirely focused on the Istoryii Sankt and the fetters that remain. She first starts out as this frail, "I don't want the fetters, this is all a fairytale, why me" character that got to me. But then, after they catch Rusalye, an ancient creature that could lend its power, and she wears the fetter, oooooh she changes.
Power twists, power corrupts, power hungers for more. It's what Baghra said and it definitely happens to Alina. Her return to Ravka and the Grand Palace, commanding the Second Army… you start to see the changes, slowly but surely, her becoming something more. I loved seeing that transformation, I was addicted to seeing what she would do next. And all the scenes between her and the apparition of the Darkling… oh my kittens, it was, again, like drugs. The flirting, the danger, the beauty of those interactions… Very seductive.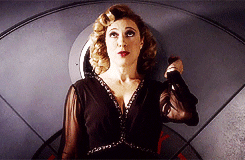 Nikolai, oh sweet fox, I fell in love with this one. I had heard about Nikolai on the internets but reading about him in the book was even better. His charm, his nonchalance, his own darkness. I fell in love with him so completely and I shipped him and Alina for the longest time. He is the kind of character that I would write about and have him be the main love interest. He's the kind of person you fall in love with when you meet them in person. Now I know why everyone loves him so much BECAUSE I AM IN THE SAME FANGIRLING BOAT!! I really can't wait to read King of Scars but I don't know how much of the feels I would be able to handle.
I definitely realized that the Darkling is absolutely insane. He is quite the psychopath, especially when I read what he did to Genya, holy mother pupper. That revelation, it hurt. Genya is, as a character, torn because she grew up in the Palace and was thoroughly abused while at court. I really want to read more about her history but from what I've read in the novellas and books, her backstory is horrifying. I understand why she was always torn in situations, she's very grey and is the ultimate survivor in this series.
For a middle book, it was a very quick read. It went by in a blaze of Saints, power, halucinations, and angst. I loved it. The entire plot built out beautifully in this book, balancing what happened before and what was to come, I didn't expect it in the least and to think when I first picked it up, I had to put it back on ye old TBR pile.
If you haven't already, pick up this series. The trilogy is great and the expansion into the Dregs with Six of Crows is even better.
Leave your thoughts on the Grishaverse, what's your favorite book in the series, who's your favorite character, would you rather Alina ended up with the Darkling or Nikolai versus Mal?
I hope you enjoyed!
Other reviews:
Shadow and Bone by Leigh Bardugo
Six of Crows by Leigh Bardugo